Started in 2009 by Australian photographer Korske Ara, World Photo Day is a celebration of photography and its ability to connect us and change how we view the world.  In honor of World Photo Day, we're highlighting some of our talented friends across the world of sports who are masters behind the lens as they selected some of their favorite photos that represent why they love the beautiful art of photography.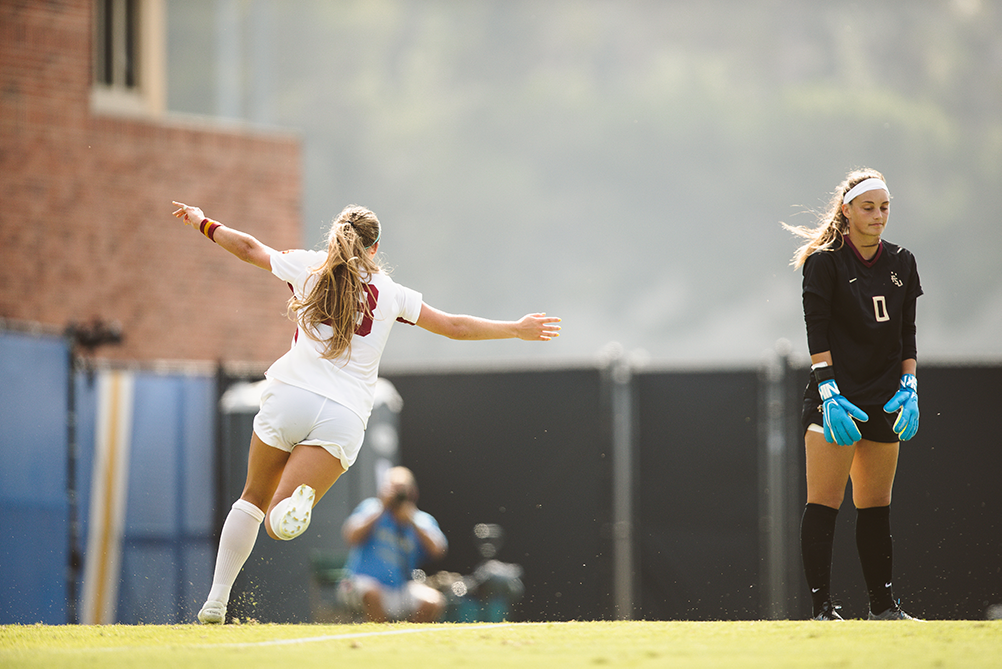 Jenny Chuang
Follow @jennychuangphotos
Capturing human emotions is a powerful storytelling tool to connect people and create a community. I realized pretty early on that I loved photographing women's soccer more than any other sports. Eventually, I started shooting the NWSL and worked my way up to the USWNT. While I love traveling and following the game, there is just no place like home. I've had the privilege to shoot nearly every women's soccer team in Los Angeles/Southern California, and I'm excited to add another team to that list in 2022. This photo represents how every game has a story, and there is always two sides to every story.
Why I love Photography
The thing that keeps me coming back aren't the moments in the game, but the moments that happen around it. The moments in between. The moments when hard work and passion turns into celebration. The moments behind-the-scenes. The moments that most people don't get to see. The moments that may otherwise have been forgotten or lost in history.
Matthew Levine
Follow @the_fox_and_the_matt
This photo represents me because, I'm always looking to find creative ways to capture anything that I'm shooting - sports or otherwise. Having shot a number of games at this point in the NWSL Challenge Cup, I was constantly trying to get a really interesting silhouette. I just really love how this one came out with the sun's glow really adding to it.
Every Photo has a story
I chose this photo to represent soccer because it's of a player who was unheard of by many at the start of the Challenge Cup, but Jennifer Cudjoe quickly turned heads in Utah. Her story of believing in herself and making her dream come true encapsulates the beautiful game for me in a nutshell as well as a good life lesson in general.
Nikita Taparia
Follow @kryptobanana
"Pinoe's" goal celebration in the world cup final is the most iconic image in the women's game. To capture it, when just four years prior, I had nosebleed seats at BC Place, barely knowing how to use a camera, this moment was beyond special.
My Love for Soccer
My love for this game coincides with these split second moments that depict the duality of emotion because I find there is nothing more cinematic and beautiful -- like when Christen Press scored in the world cup semifinal in front of the shocked English fans and looked up to the heavens in pure elation.
Will Navarro
Follow @fotowill
As a Lakers fan growing up in Los Angeles, Kobe Bryant was my hero. Capturing the faces of these young athletes smiles as they meet their hero, the role model I modeled my career path on through a hard work ethic, passion, the Mamba Mentality. I aim to represent my work, my love for photography with the same values, share the story in every image you capture with those values just as I was able to capture with these smiles.
My Favorite Photo on the Job
An action shot can portray a single second moment, but your result can dictate one's commitment to their craft through study, practice, and focus. This particular photo Running back, Todd Gurley (30) formerly of the Los Angeles Rams, rushes for a first down during an NFL game against the Green Bay Packers, at the LosAngeles Memorial Coliseum, Los Angeles, CA
---